If football is a game of inches, skateboarding is an art of millimeters. Trucks, board sizes, wheel measurements, it all comes down to slight differences and, real or imagined, the details matter. Throughout his skateboarding career, video production, artwork and brands Polar and Last Resort AB, the latter of which he co-founded with designer Sami Tolppi, Pontus Alv's career has been defined by careful curation and synergy with skateboarding history. He's a rare creator who can speak nostalgically about what inspired him back when he skateboarded with as much reverence as he can talk about the present and future of skateboarding.
Everything Pontus does has a purpose, from designing the clothes to the shapes, designs and sizes of Polar's skateboards – even the flair has a function.
Throughout our conversation, Pontus was able to explain what it means to be a "skater owned" shoe brand in a 360 degree sense. Every idea, story and learning is a testament to his drive to create the best possible thing – whether it's a shoe, a skateboard or a video – for skateboarding. With Last Resort AB, he brings his vision to the footwear space, and like all of his creative endeavours, the execution is as unexpected as it is purposeful.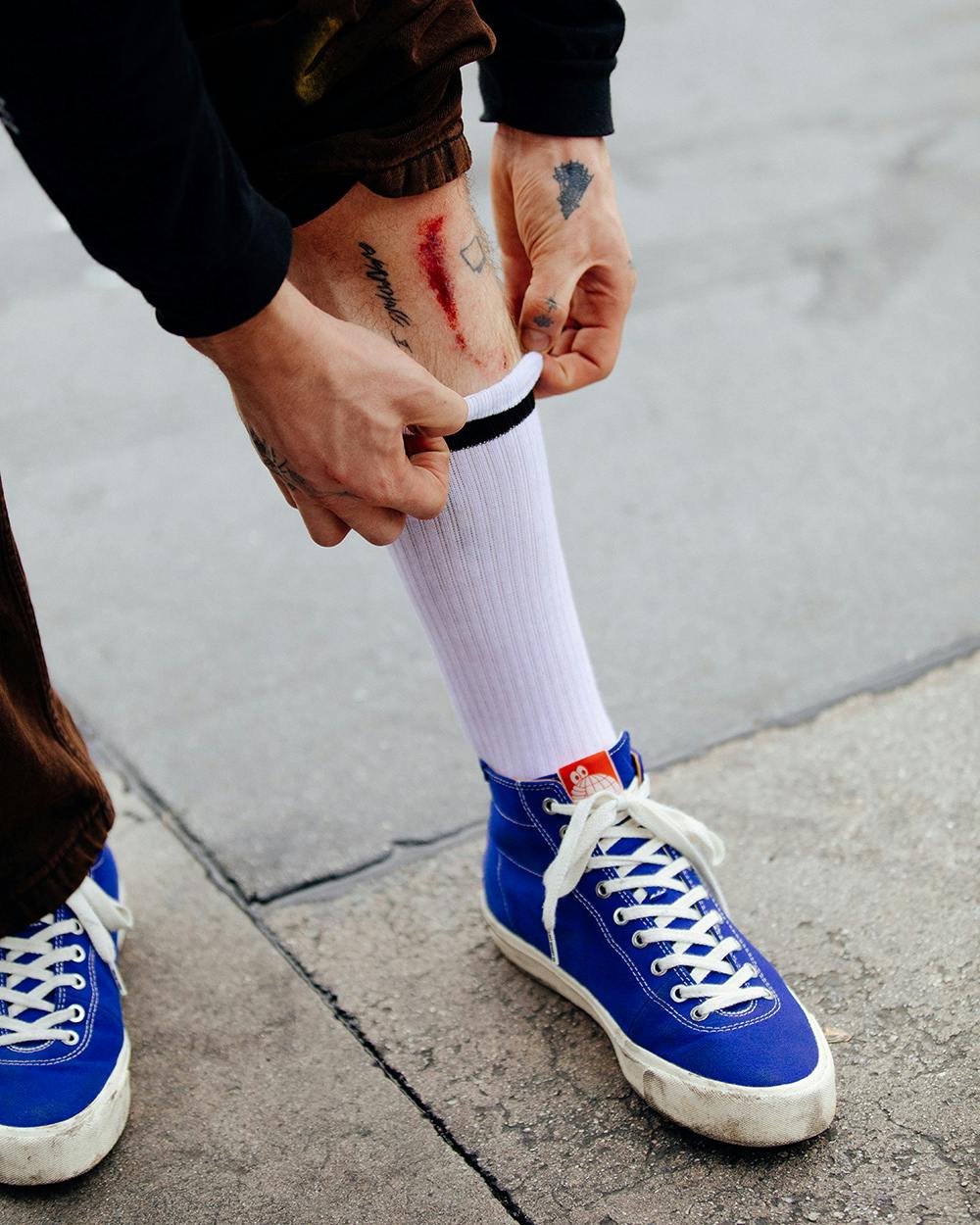 At the start of Last Resort AB, you knew a lot more than average about the technical and production details of a shoe, so how did you approach building a brand from scratch, knowing all the limitations?
My design partner, Sami, used to make capsule sneakers in Portugal – expensive fashionable sneakers. Sami mentioned that he had a friend in Stockholm named Erik Schedin who made shoes. He had an art school project about 15 years ago where he wanted to make a thin vulcanized shoe. So he started researching factories, went to Asia and ended up in Vietnam where he found this cool little team there. They had much lower minimums than other factories but also offered good materials, nice factory, nice people. I looked at what it would cost to open the molds and the investment and it was a really good deal, so I thought, "I'll take that bet."
We made the first shoe, the VM001, which was a very simple idea. We got the first sample based on rough sketches – a suitable sample – and said, "Jesus, this stuff looks really awesome!" It took a while to get it right, and then we got into the first lockdowns due to the pandemic, but we thought, 'Damn, we're doing this.'

We worked very hard on the fit, the proportions, the height of the band. We've been here two years and we're still learning. We take so much more action than other brands. We go to the extreme. Normally, when you test a shoe, you put it on a machine and walk it 50,000 steps. We always double down on what we do, so we do 100,000 steps to try to make the vulcanization process as strong as possible.
Can you talk about the sole design of the shoes?
We wanted a logo on it, but the most important thing was to design the tread so that rocks and pebbles couldn't get stuck in it. It's a big thing in Scandinavia in winter when they salt the streets, and after winter the sidewalks are full of rock salt and pebbles that can get stuck in your shoe. Then you start to slip and it scratches your grip tape and you're disappointed, so we designed the pattern to be quite open.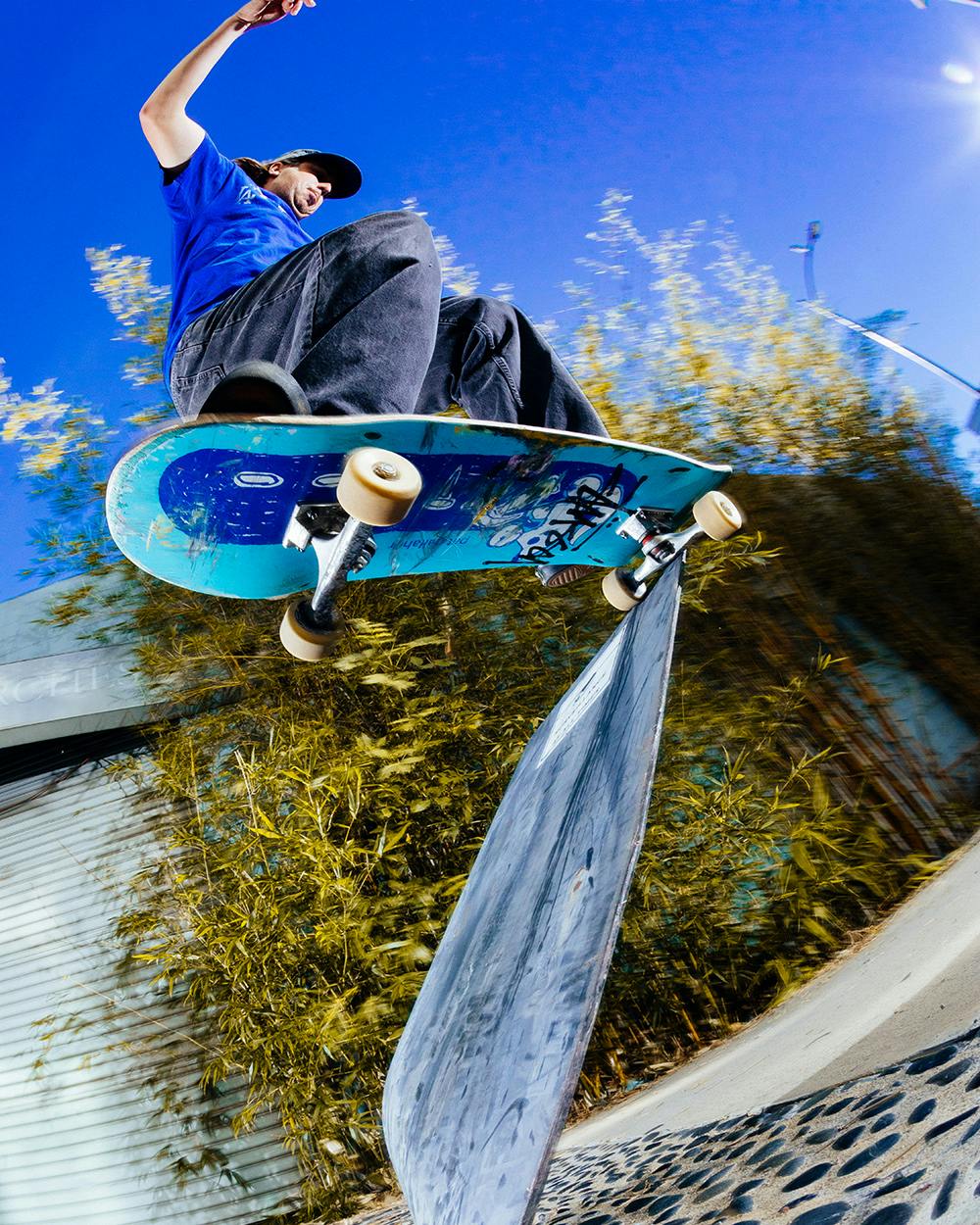 What about materials?
I wouldn't say the suede we use is unbreakable but it really, really lasts. We actually have a problem now that the upper of the shoe lasts longer than the bottom because it's so strong. Because we use 100% natural rubber, we try to change the compound to make it last longer while keeping the same feel and grip. The other big thing is changing the insole. Personally I like it but listening to the skate community people are looking for something with a little more support.
I wanted to ask a question about this. There are so many YouTube accounts wearing test shoes and so many reviews you can get from social media. It looks like it could be a powerful tool, do you look at that stuff?
Of course, Gifted Hater is a great YouTuber and skateboarder. Scream from him, I love the guy, he's super hilarious in so many ways. At first he bought the shoes himself, so now we give him shoes. We never ask him to do reviews – we don't pay anything – we just love what he does and he loves what we do. And he is honest. He mentioned that he rips the insoles out of shoes to replace them and you listen to other skaters doing the same thing because so many skaters are obsessed with insoles. They only fit certain soles, whatever shoe they buy. So it's a big discussion: should the insole be taped/glued or loose? Personally, I like it glued down because it makes everything tighter and more compact. We are experimenting with a lightweight glue that comes off easily.
I watch all of this and talk to these people. It's my name, in a way, and my responsibility, so I want to give the skateboarding community the best product possible. If they're not happy, I have to go back to the drawing board. The bottom line is that people seem to really like the shoes – the fit, the style, the quality – they just mentioned that they wished the insole had a little more support. They don't hate each other at all. So, OK, let's work out the details. We are still a young company.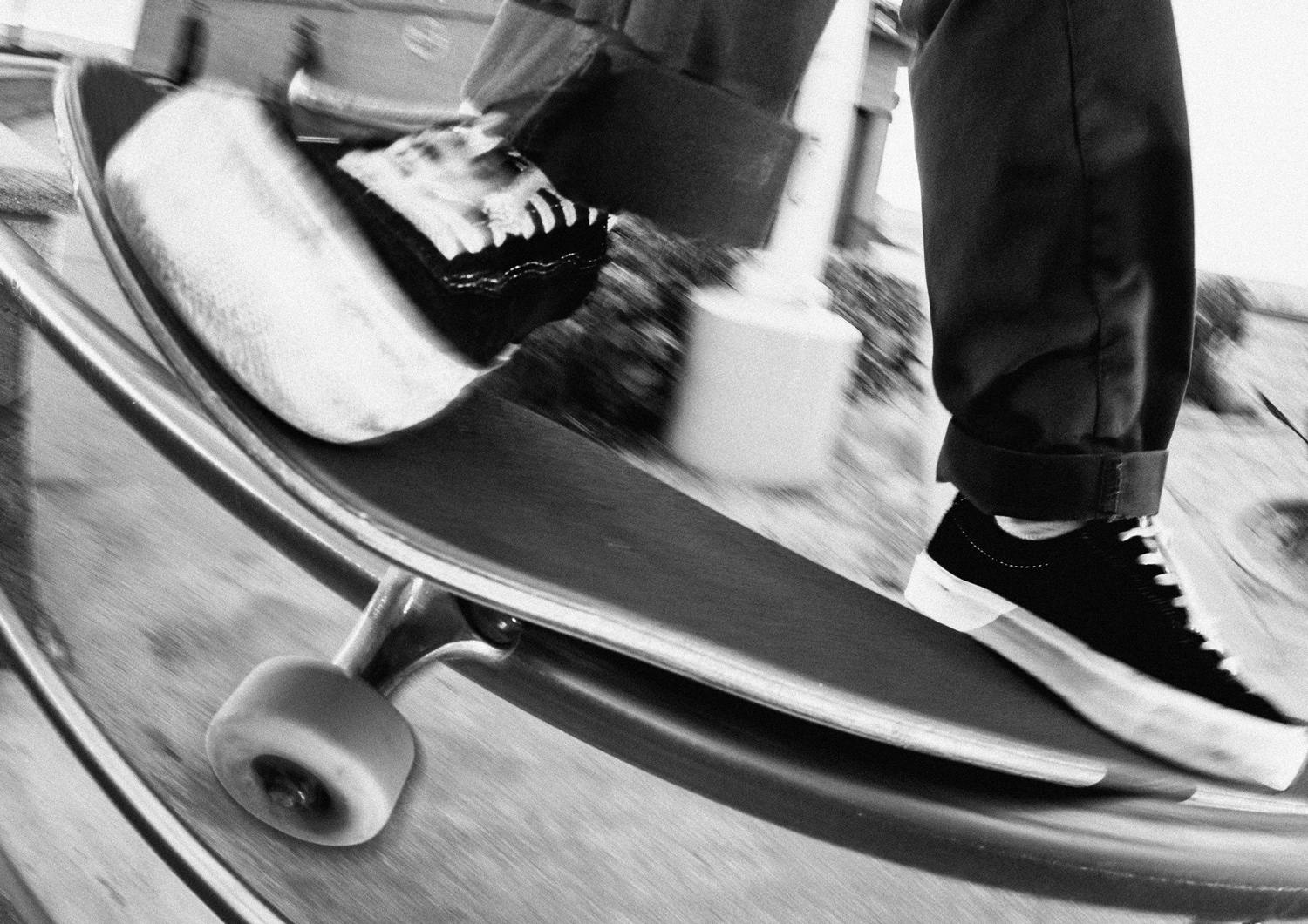 You have a big name in the industry. You could have launched the brand and released a Pontus pro model. Why did you decide not to do it out of the gate?
As a skateboarder, I officially retired four or five years ago. I removed my name from a painting. I still have Klez, my alter ego—boards and sometimes my signature appears on an art board, but I don't present myself as a pro anymore. Lately, with Last Resort AB, I started skating again and taking pictures. I also had a really bad knee injury that I had to come back from. I think people are excited to have me skating again and being involved and seeing the owner being there – that's the perfect balance for me. I don't really want to have a professional shoe or board unless I'm doing video parts and producing. I don't want to milk my gig. Finish the old, make way for the new.
Ultimately, I want to release professional shoes, but no, we are currently working on the CM001, which is the cupsole model. We're going to expand to six silhouettes and keep it small. I don't want to stretch out to have too many models and start putting out this weird stuff. How can something become a classic? Because it's there, it's been there, and it's not going anywhere.

There are skater-owned brands that have lasted for decades, but their model has always seemed to be as mainstream or as big as it gets. How does this differ from your approach?
We want to make a few shoes that we're really proud of and then we want to stick with it. What you see is what you get. I want to make the shoes bigger than the skateboard. I want it to become a classic shoe. You can skate in them, it looks great, but you can also wear them to a wedding or to work. There are no logos, it's a simple, clean silhouette. That's the idea.
It's also something very personal because coming from filming skateboarding, I'm really tired of seeing big logos. You have a fisheye and you film the skaters, and in all the footage you have this logo on your face. I want to look at pictures and see the skating, not that thing on my face. Every shoe brand needs that logo on the side of the shoe – you're a shoe company, you need that thing right there. The first thing I said was, 'Let's do a shoe business, without that stuff.' Obviously there have been other brands that did something similar or just had a label. It's not quite original, but it's a statement by not having that big "stuff".
Apart from the cupsole, what's next for Last Resort AB?
We are slowly working on a Last Resort AB video and building the team. The team is really ready now and solid. They're there filming, so it'll hopefully go down this year – about a 10-minute play. We are also working on the new full-length Polar. We are modifying it at the moment.
Buy the full Last Resort AB drop here